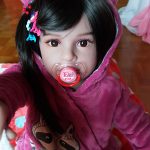 Honestly, I didn't come up the idea of making such cute chubby doll. It is not my idea. I got suggestion from one doll lover. 
We have a short story here. I always want to make a doll can satisfy doll lovers, and the doll must be fresh to the market, not something everyone have seen before. I started to ask opinions from my customers, from internet. I want to create a perfect new doll. In Jan 17, a doll fan reached me and suggested 80cm toddler doll idea, as below. I found this idea very fresh. But more importantly, I have to evaluate whether I can make it into a real doll, also what body measurements should I do etc. Luckily this doll fan put a lot of effort into it, he offered me body measurements, trying to make this doll as realistic as we can. And he has great idea about the pussy design also. I should be really thankful to him!
But what a pity that coronavirus happened! And even we could not have a promising Chinese Spring Festival. Factory had to close and we stayed home, could do nothing. And during this break, you can say I finally got some time to seriously consider the previous suggestion of 80cm toddler doll. Yes, I gotta admit it is a great idea, but I am so hesitant about how I should start, where to find the potential customer etc. 
In April 7, I had an idea that making this 80cm doll as a group project. So glad that this worked. I got 10 preorder customers to support this project. They voted for everything and led me to make this doll from a dream into a reality. Many thanks!
How We Make Everything Possible?
First, the most important part is the body. With the body measurements, here I come up the 3D drawing draft, which helps us to know what the body will look like.
Then we use 3D printer and here comes the 3D body (green) to check in person. Then it is the clay mode.
And here comes the final mold for mass production. With TPE material flows into the mold, a body comes out under high temperature. Of course, we have skeleton inside the mold, which will be inside the TPE body to support the body movements.
So finally we have our first sample of doll body! She may be not 100% perfect, even the nails is just makup thing. We need to make adjustments.
Oh, almost forget the head. Here comes the clay mode design. The final product looks pretty good with blonde hair if I must say haha.
Yes, in the way to perfection, it takes time and energy. But it totally worths when I see the final product!
If you like what we share, don't hesitate to share with others! If you want to make your dream doll come true, don't hesitate to contact me!